Sunday, October 30, 2011
Check out this great
blog-i-versary giveway
from Ash-Lilly!!
Greetings from Panera Bread! (I wonder if I could get sponsorship...?) Halloween is one of my favorite holidays so I have another spooky look for you ghouls this week. This one is sure to be blood curdling:
This is two coats of Sinful Colors "Snow as White" with Sinful Colors "Gogo Girl" for the dripping blood effect. I got the effect by laying a very thick French tip line down then holding my hands vertical to let them drip and using a dotting tool to help form the lines and a few extra drops.
I think the look turned out nightmarish, what do you all think?
Sunday, October 23, 2011
Holy Cow! I can't believe it's been almost a month since I've last posted. My how time has flown. The hubs and I are all moved out of our condo and our new tenant is all moved in. Our settlement date for the new home is late November so we're bunking with my in laws till the house is ready. There is no wireless at the in laws so my laptop is as good as a paper weight right now. Right now I'm posting for the local Panera Bread. So here is a quick spooky manicure for all you Halloween fans: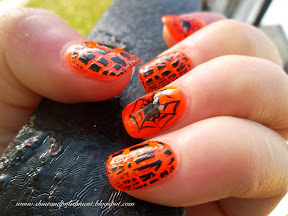 This is two coats of Color Clubs in Koo Koo Cahoo with LaRosa Black Crackle over top on three fingers and little spider webs complete with adorable spiders on the other two fingers.